Go Back
2021 Primo 83X16 Car / Racing Trailer
Item Location
Mesa AZ Trailer Sales
jackssonstrailers.com
albach.kyle@yahoo.com
3054 E. MAIN ST
MESA, AZ, 85213
(480) 218-4410
Stock No: 0433
Our Price: Call For Price
| | |
| --- | --- |
| VIN: | 0433 |
| Condition: | new |
| Year: | 2021 |
| Manufacturer: | Primo |
| Model: | 83X16 |
| Floor Length: | 16' or 192.00" |
| Width: | 6' 11" or 83.00" |
| GVWR: | 7000 lbs |
| Payload Capacity: | 7000 lbs |
| Axle Capacity: | 3500 lbs |
| Color: | Aluminum |
Request More Info
2021 Primo 83X16 Car / Racing Trailer
Please enter your contact information and one of our representatives will get back to you with more information.
Get a Quote
Please enter your contact information and one of our representatives will get back to you with more information.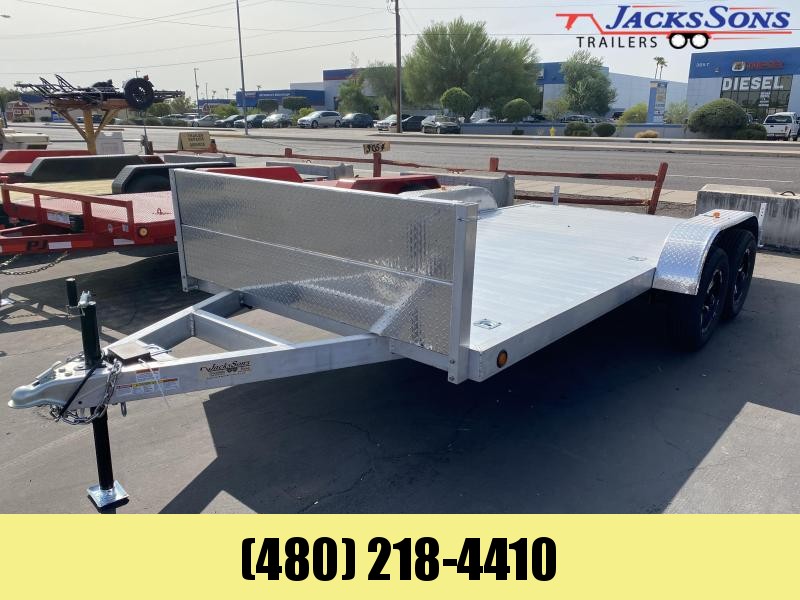 ---
STK# 0433.


HUT82x16-TA-16HSS
7 X 16 Tandem Axle CAR Hauler- Torsion Sure Lube Axle -- Best suspension on the market -- 5 year warranty from manufacturer- TIG Welded Frame Is Better Than MIG Welding -- Less heat and cleaner welds -- easy maintenance & prevents rust
Stainless Steel Hardware -- Used wherever possible! Primo uses the most stainless steel fasteners of any aluminum utility trailer on the market.
Radial 15 Tires -- Radials are proven to last longer and provide for a safer ride.
Aluminum Mag Wheels -- Aluminum mags will not rust & look awesome!
All Recessed L.E.D Lights -- Last longer & will not break as easy as standard lights especially when they are protected inside the frame.
Tubular A-Frame Tongue -- Tongue is much stronger and allows wiring to be inside enclosed tube frame
Ramps that turn into stone guards -- Not only a place for you to store your ramps but protect what your hauling.
Aluminum Extruded Decking Standard -- Lighter and lasts virtually forever. Won't rot like wood will. Plus just looks a lot better.
PRIMO designed for the consumer -- if you bend or dent a fender, side kit or ramp you can easily replace with simple tools (don't need to bring to welder).
6 5000 lbs. in floor D-rings -- Strong enough to hold a car and strategically placed for
SPECIFICATIONS:
Deck Length: 16
Deck Width: 82"
Deck Height: 22"
Stainless Steel Hardware
G.V.W.R: 6990LBS
Suspension: two 3500lbs Torsion Axles
Tires: ST205/75R15 DOT
4 wheel electric brakes
Coupler Rating: 2 5/8 10,000lbs
Net Payload: 5740 lbs.
Wheels; 15 -- 5 Lug Bolt Pattern
Enclosed L.E.D Lighting System: DOT Approved
Frame: 2x6 Tube Framing
Chrome Lug Nuts
Stainless Safety Chains: 24
30" Dove tail
7 degree Dove tail -- About 3" of drop
Our car haulers are specifically designed with the customer in mind. Our main frame is made with 2--5 inch tube with a thickness of ", this makes our car hauler frame the strongest on the market rated at 6990lbs. Sticking true to our base we not only run our main framing from front to back, but we add 4 more 1--2 inch beams that span the whole length of the trailer. We then use 4-6 more 1--2 beams from side to side. We then go even further and add two more 2--4 inch tubes down each side of the trailer.
All wiring is ran completely enclosed with no wire exposed. We use ultra-bright LED lights to ensure everyone on the road can see your trailer at night.
We use 6005-A aluminum on this trailer. 6005-A is a great aluminum, it has the strength of 6061 but the flexibility of 6063. Almost every US based aluminum trailer manufacturer use 6061, this is a strong aluminum but is not flexible at all so when it fails it shatters. 6005-A offers the perfect balance between strength and flexibility. You might be wondering why all these companies use 6061. The answer is simple, availability and cost. 6005-A is an aluminum that is not only hard to source in the US but is also almost 30% more expensive. Fortunately, we have partners to provide us a steady stream of this premium aluminum. At Primo Trailer Manufacturing, we strive to be the best aluminum trailer manufacturer in the US. We promise to never cut corners to save a dime if it is at the expensive of cutting any quality.
We use a 1.5mm thick custom extrusion for our flooring. This mold has 4 ribs giving each 8' long piece a 2500lb payload capacity. We have drove Kubota and Yanmar excavators over these pieces with no problems occurring.
Call for more information!
WE FINANCE! (Copy and Paste) https://express-simple.com/jackssonstrailers-mesa84410/?utm_source=pj&utm_medium=text
More of our stock inventory HERE - https://www.jackssonstrailers.com/all-inventory
or Craigslist search - Jackssons Trailers to see all of our active postings
Mesa Location: 3054 E. Main Street Mesa, Arizona 85218 480-218-4410
Hours: M-F 8:00 am - 5:00 pm Sat 9:00 am - 5:00 pm
Glendale Location : 7020 NW Grand Glendale, AZ 85301 623-937-5575
Hours: M-F 8:00 am - 5:00 pm Sat 9:00am - 5:00pm Evenings and Sundays By Appointment
The Advertised Prices Do Not Include: *Doc Fee *Licensing *Tax *Environmental Fee
Thank you for visiting Jackssons Trailers. We currently have two Phoenix area locations to serve you. We keep approximately 300 units in stock from the highest quality manufacturers. Our goal is to provide you with a great selection of quality products to help you with the task at hand. Whether you're a contractor needing a dump trailer, equipment, or landscape trailer, an off-road enthusiast riding a quad or driving a rock crawler, a car collector taking your prized creation to the next show or auction, a hot shot transport company trying to carry more freight with less downtime, our dedicated staff is here to help you. Need to service or modify your existing unit? See our service professionals for sound advice and solutions. Not finding what you need in stock? Please take the time to speak with a member of our knowledgeable sales staff.
Keywords: Landscape Trailer, used enclosed cargo trailer, Aluminum Trailer, Trailer Sales, ATV trailer, Utility trailer, open trailers, Roofing Trailer, Dump Trailer, Trailer Parts, Tilt Trailer, gooseneck trailer, Motorcycle Trailer, heavy and light equipment trailers, car trailers, Side load trailer, dump trailer for sale, Car hauler, Utility Trailer, enclosed trailers, trailers for sale, trailer enclosed, Trailer Specialist, Trailer hitch, Flatbed trailer, Enclosed trailer, Covered Trailer, Trailers, Cargo, Race car trailer, gooseneck, bumper pull, trailer for sale, car trailers, equipment trailer, Pace American Trailer, Carry On Trailer, Big Tex, used trailers, cargo trailer, Interstate Trailer, Stock Trailer, Car Carrier, Cargo Trailer, trailer rental, Tilt Trailer, Construction Trailer, Steel Trailer, Uhaul, moving trailer, Equipment Trailer, used Cargo trailers
Item Location
Mesa AZ Trailer Sales
jackssonstrailers.com
albach.kyle@yahoo.com
3054 E. MAIN ST
MESA, AZ, 85213
(480) 218-4410
Stock No: 0433
Our Price: Call For Price
| | |
| --- | --- |
| VIN: | 0433 |
| Condition: | new |
| Year: | 2021 |
| Manufacturer: | Primo |
| Model: | 83X16 |
| Floor Length: | 16' or 192.00" |
| Width: | 6' 11" or 83.00" |
| GVWR: | 7000 lbs |
| Payload Capacity: | 7000 lbs |
| Axle Capacity: | 3500 lbs |
| Color: | Aluminum |
Request More Info
2021 Primo 83X16 Car / Racing Trailer
Please enter your contact information and one of our representatives will get back to you with more information.
Get a Quote
Please enter your contact information and one of our representatives will get back to you with more information.
Payment Calculator
Interest rates vary by person and trailer. All payments are estimates. Tax, title and any other fees are extra.
Other Recommendations